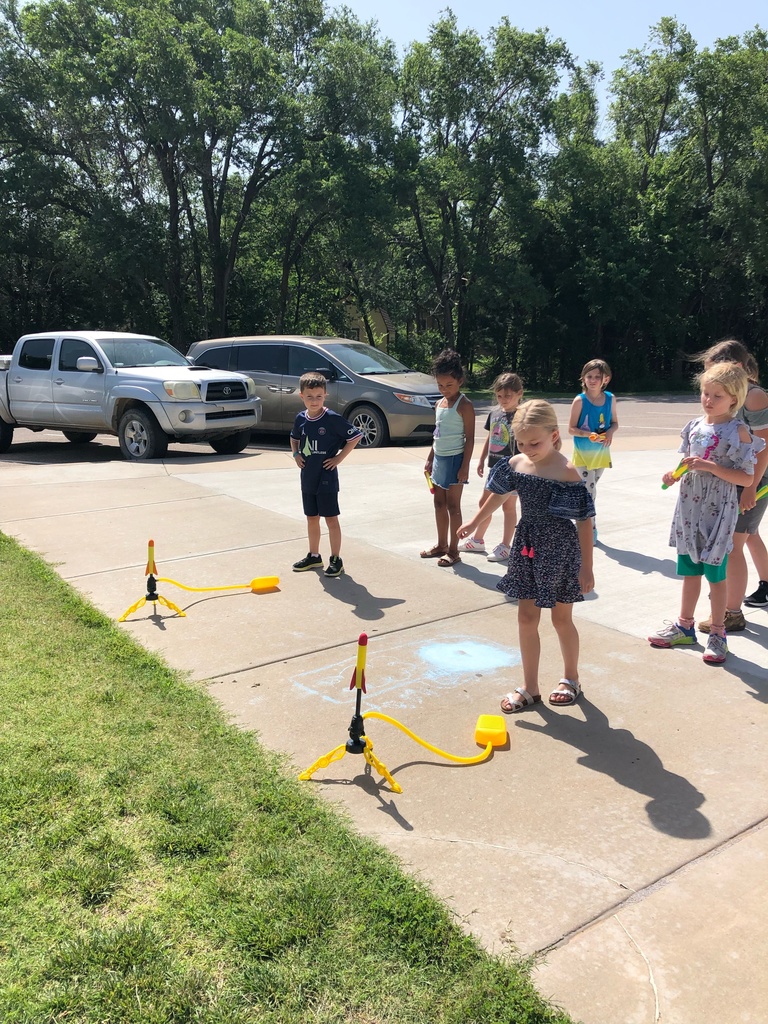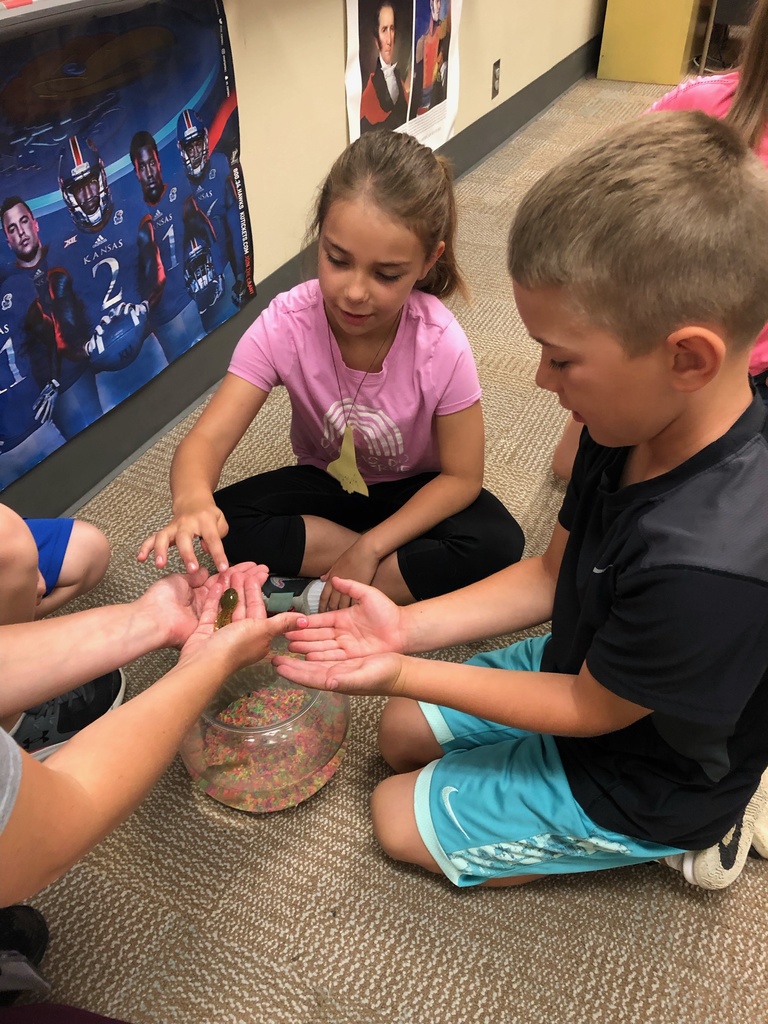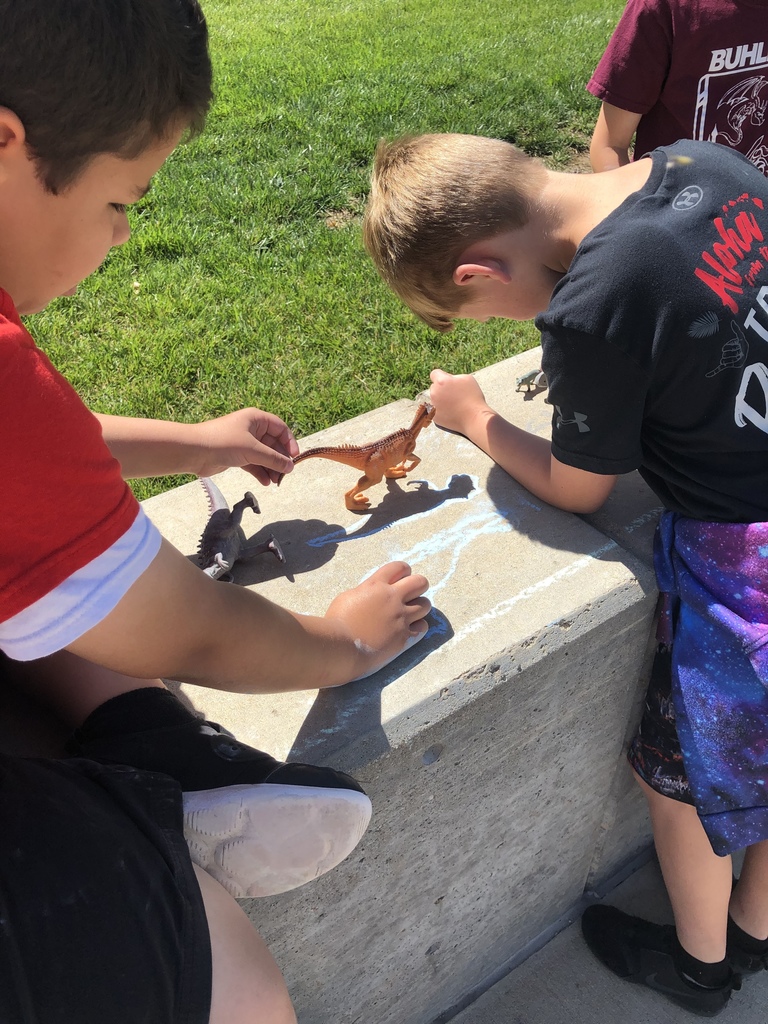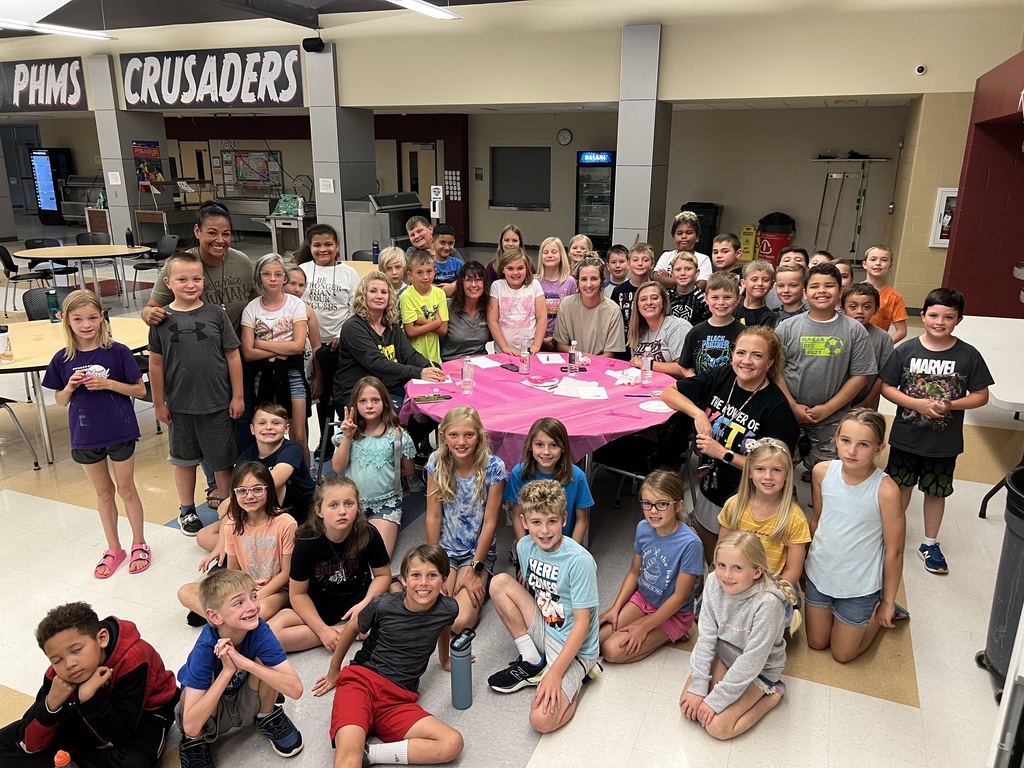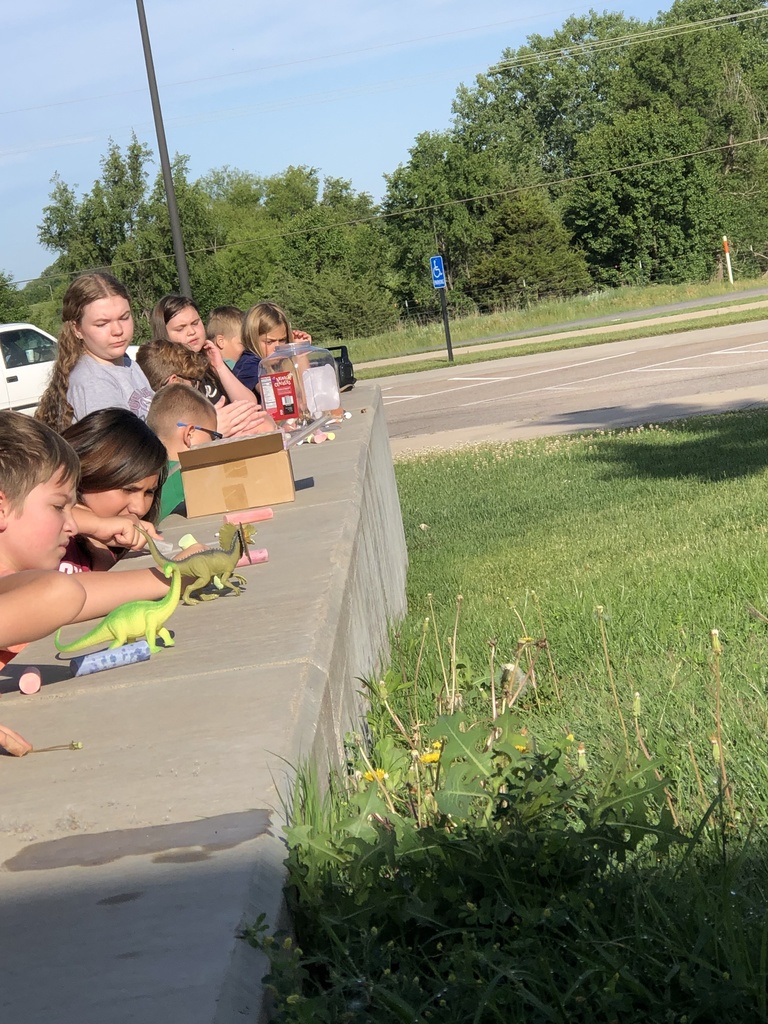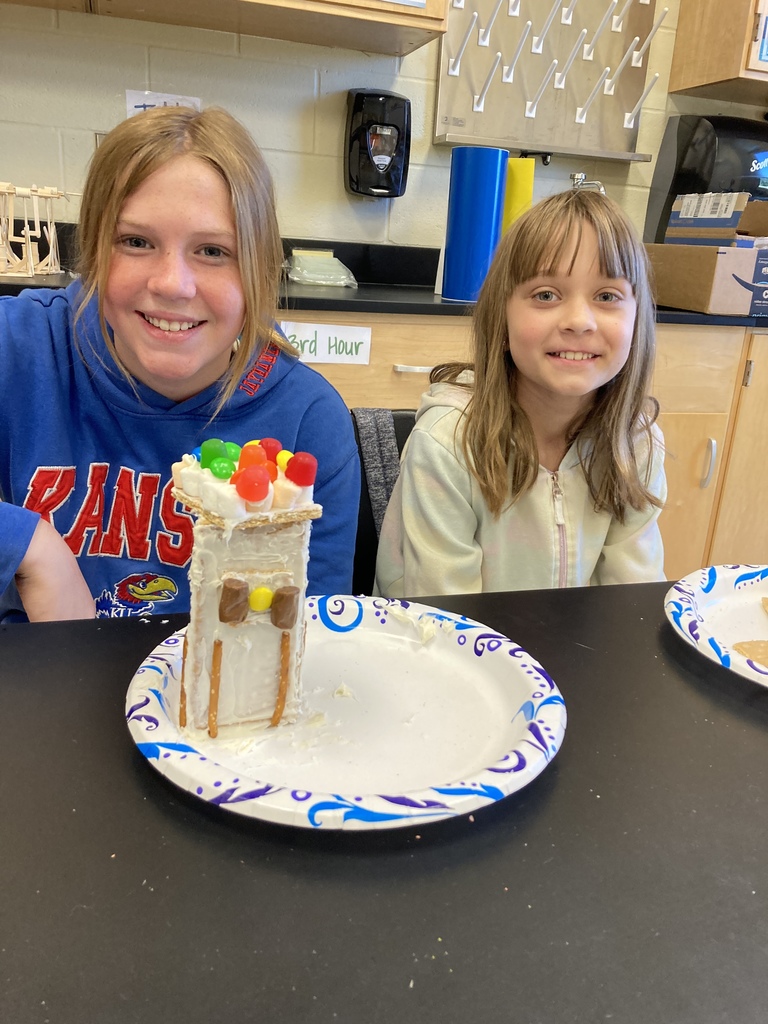 Free summer meals are available this year for kids up to age 18 at a number of Hutchinson sites, courtesy of USD 308 food service. See the attached photo for information.

Yesterday, an unspeakable tragedy occurred at an elementary school in Uvalde, Texas. As our community is excited to start summer and a rejuvenation period, Uvalde families are living out our worst nightmare. Violence inside our schools is impossible to process. We send our most precious gifts to schools trusting they will be cared for, loved, supported, and safe. When that trust is violated, it leaves all of us to question our own safety and procedures, and to reflect on what more can be done to keep everyone in our buildings protected. Buhler schools have a number of precautionary measures in place. Each building has a secure entryway. Individuals must identify themselves to office personnel before being allowed entry. Each building also has cameras at the entryway and in various locations in the building. Exterior doors are to remain locked during the day, and gates to playgrounds remain locked and secure. With our recent bond issue, all offices have been relocated to the front of the building, and visitors must go through the office before gaining access to the building. Additionally, staff and students do crisis drills to prepare for an active shooter. Reno County Law Enforcement and county superintendents also work together to ensure communication and response procedures are in place with crisis plans and threat assessment procedures. In the next two weeks, our administration will review those plans, reflect on what we learn from Uvalde to improve our response, and adjust accordingly. Unfortunately, safety precautions such as those listed above are simply that...precautions. Our most effective deterrent is being sure each student feels a sense of belonging in our schools, that each student is supported and has a caring adult they can trust. The other most effective precaution is each of you. Each student, staff member, parent, and community member must remain vigilant in listening for and reporting any questionable behavior or comments to authorities. Every one of us has a role to play in keeping our staff and students safe. I am thankful for the support of our community and dedication to our youth. Cindy Couchman Superintendent, Buhler Public Schools

Our Buhler Special Olympics Teams (basketball, track, & bowling) will be holding a fundraiser at Applebee's this coming Tuesday, May 31st from 4-8pm. Eat out at Applebee's on Tuesday and order off of the "Together We Care Tuesday" menu and a percentage of the revenue will go toward funding our team's annual budget. See the attached "Together We Care" menu. #BetterTogether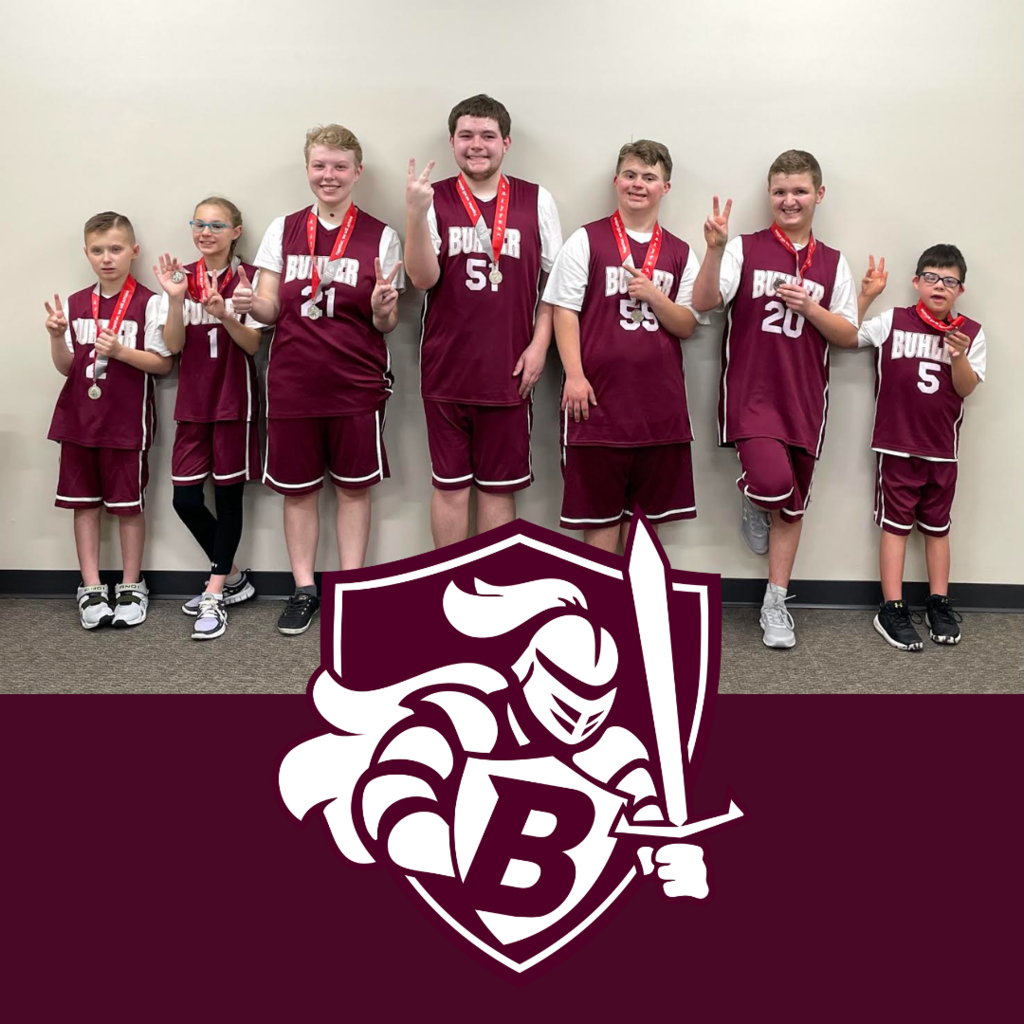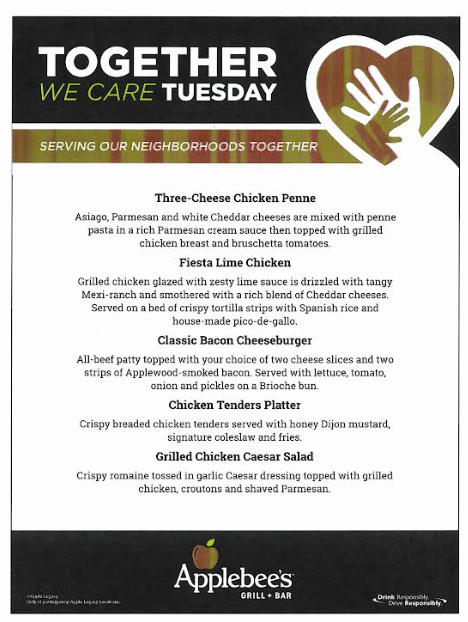 Start summer off with a LAUGH! Check out this HILARIOUS video made by Mrs. Newcome and various students :-) Random Questions with your UV Librarian:
https://youtu.be/iWzNlSBjNPI

The Kansas State Department of Education is once again partnering with many venues and experiences state-wide to give students the opporutunity to stay engaged through experiential learning this summer. See the flyer below for details or visit sunflowersummer.org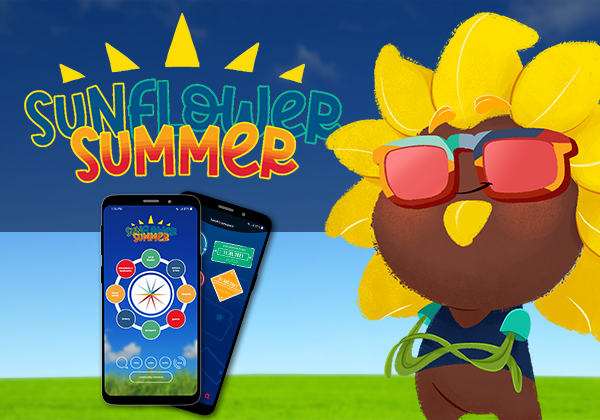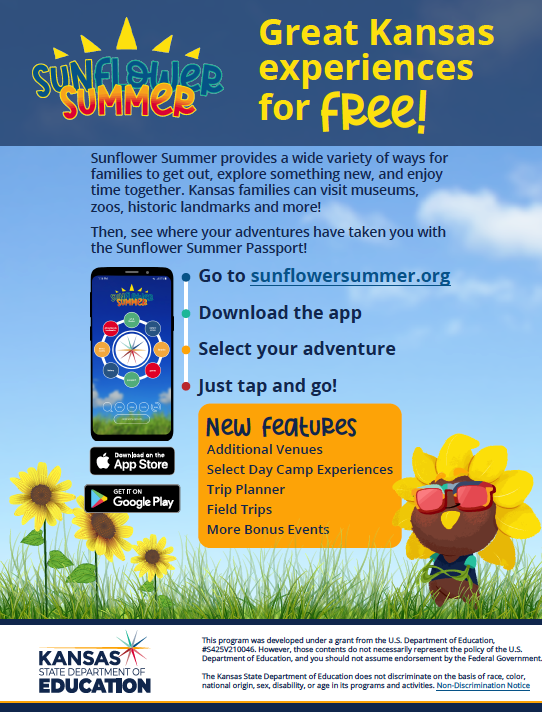 Yesterday our Cru Leaders from all three elementary schools visited the Kansas State Capitol Building together. They toured the building and got to go to the house floor. Thank you, Jason Probst, Kansas Representative from Hutchinson, for hosting our students! Cru Leaders started just this year and they are already making a positive impact on their school and community.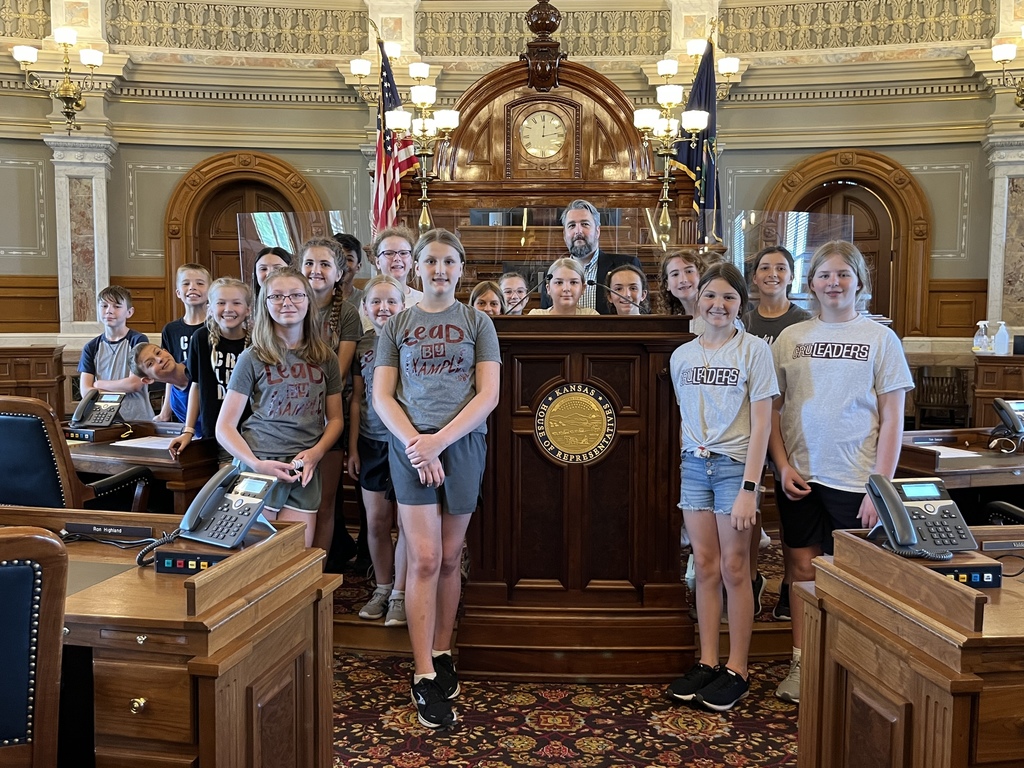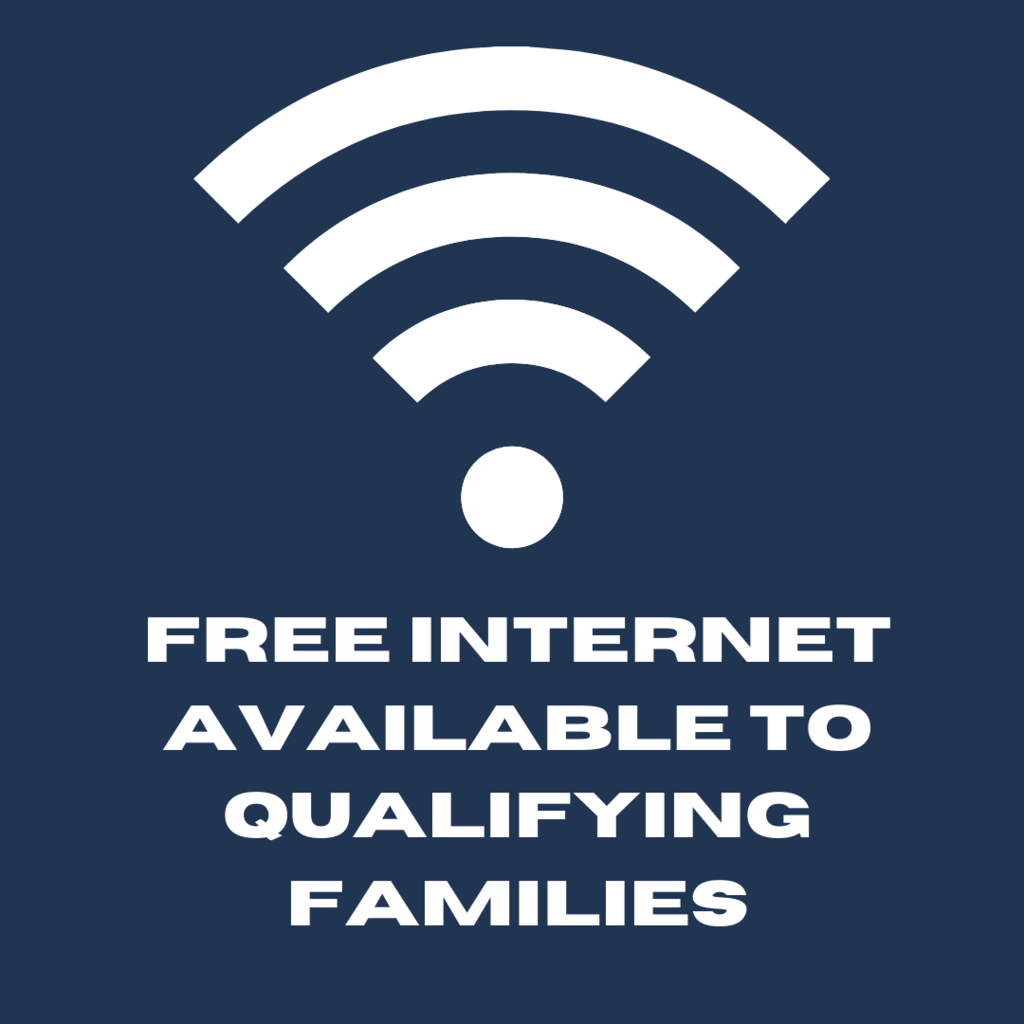 Last call for STEAM Camp applications! If you are planning to enroll your students for STEAM Camp and have not yet done so, please complete the application form below by the end of the day tomorrow, April 14th. bit.ly/buhlersteamcamp22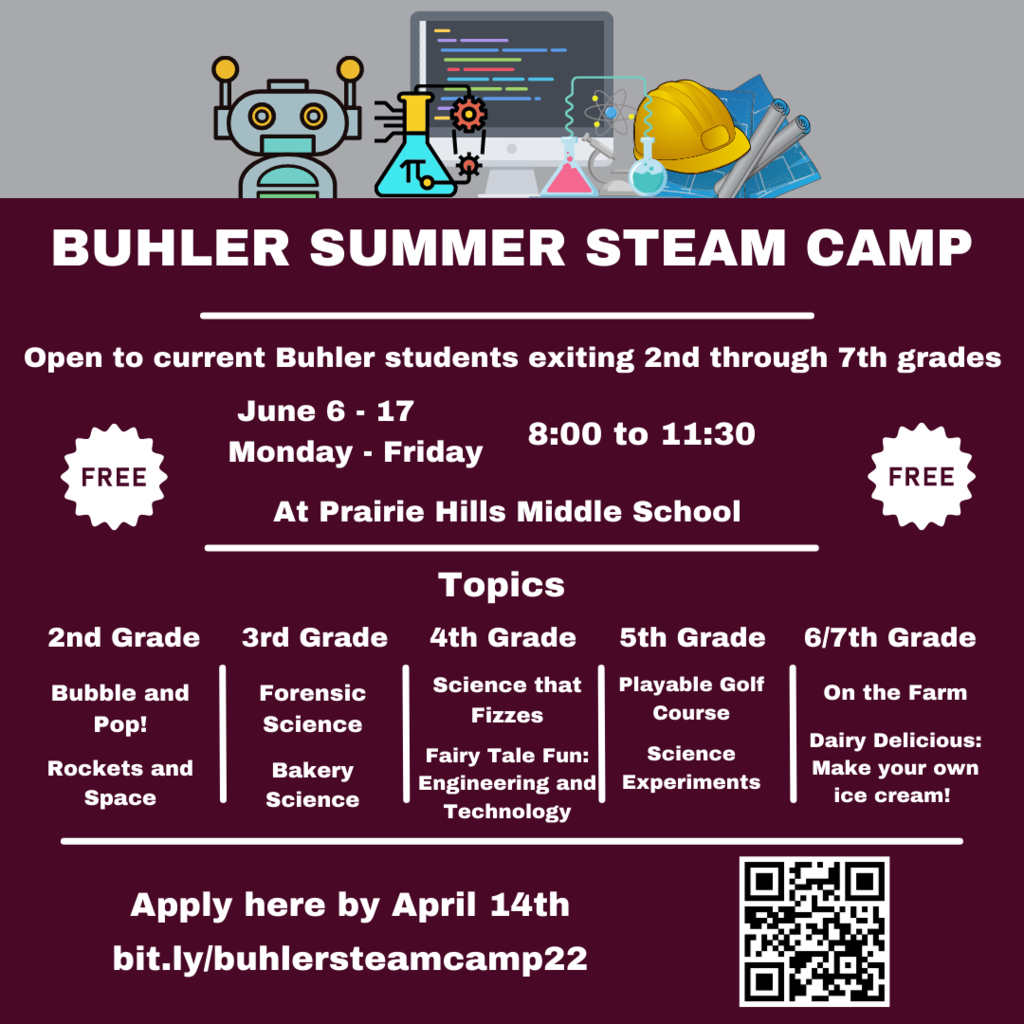 Last call for STEAM Camp applications! If you are planning to enroll your students for STEAM Camp and have not yet done so, please complete the application form below by the end of the day tomorrow, April 14th.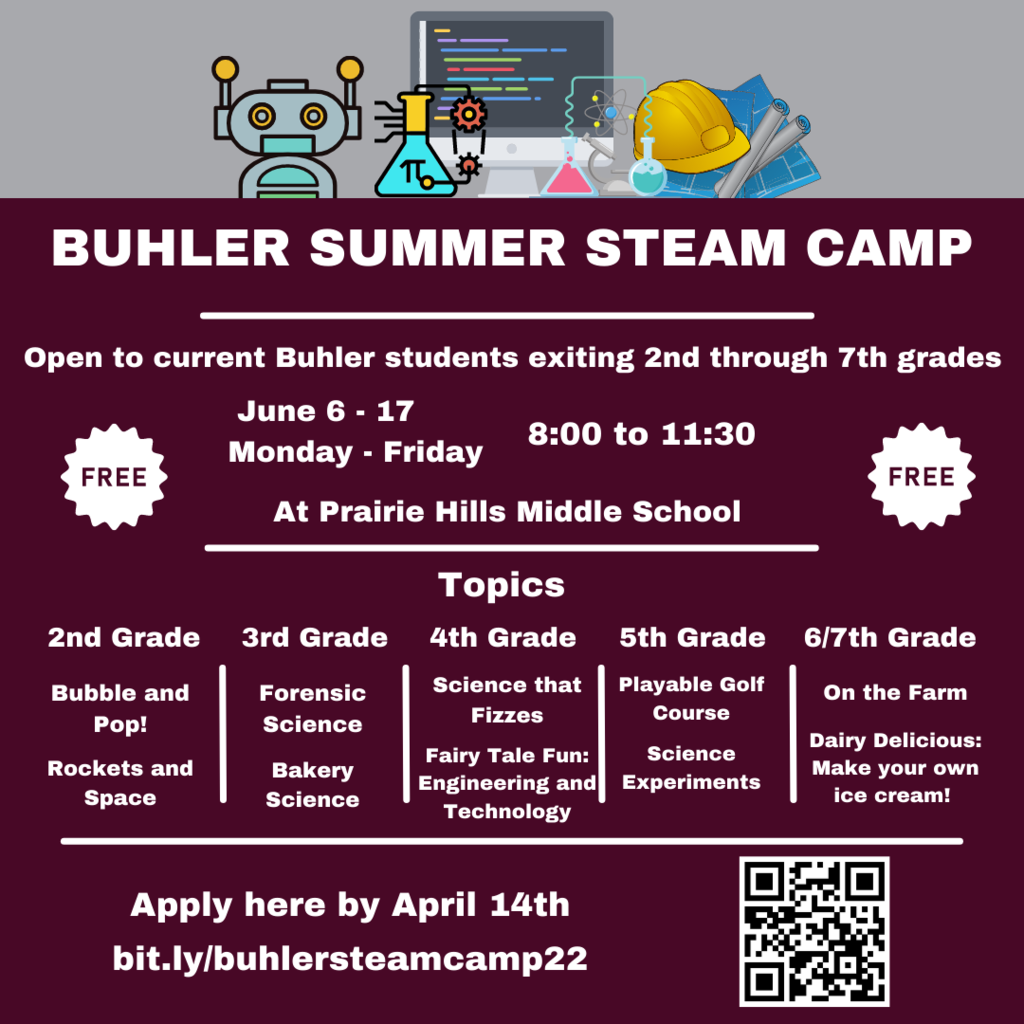 Parents and family of preschoolers, if you were unable to attend one of our preschool application nights you may apply online using the following link: bit.ly/313preschool2022 To help us with planning for next year, please complete the application by April 29th. Notification of acceptance into one of our preschool classrooms will come on or before May 20th.

Congrats to Tish Petitjean and Lacy Powers for being selected as our Cru Leaders Staff of the Quarter!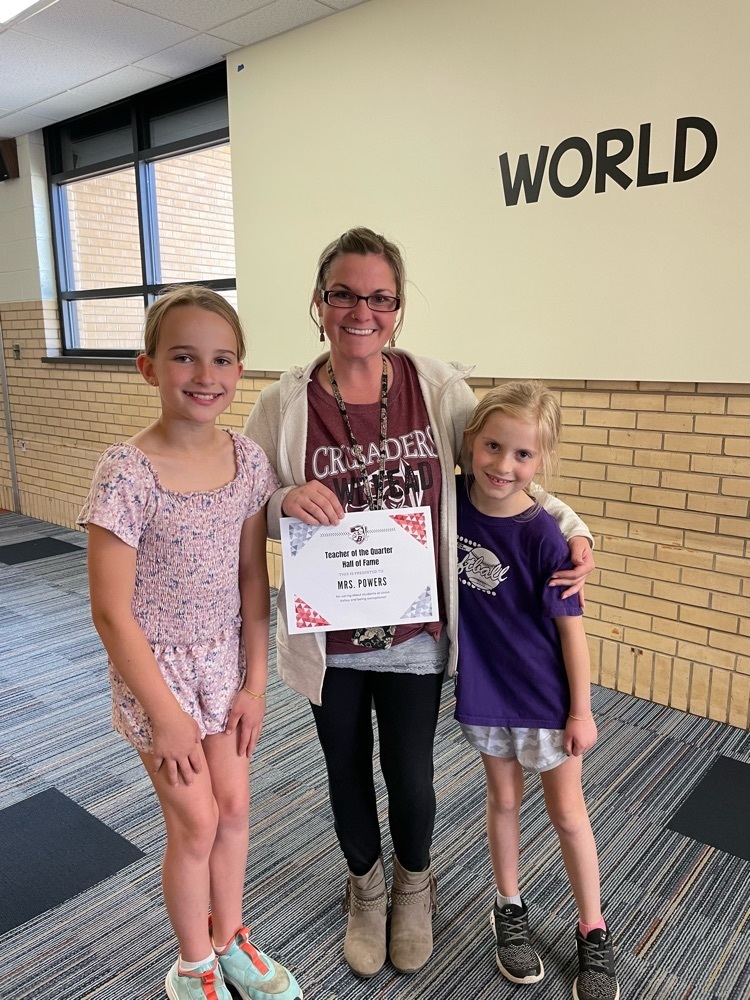 Our 2022 Family Engagement Survey is now available. Each year we ask for your feedback to measure how we are doing at involving families in the education of your children. We would greatly appreciate if parents of current USD 313 students would take the time to complete the 15 item survey linked below. Thank you for your time!
https://www.districttools.org/buhler2022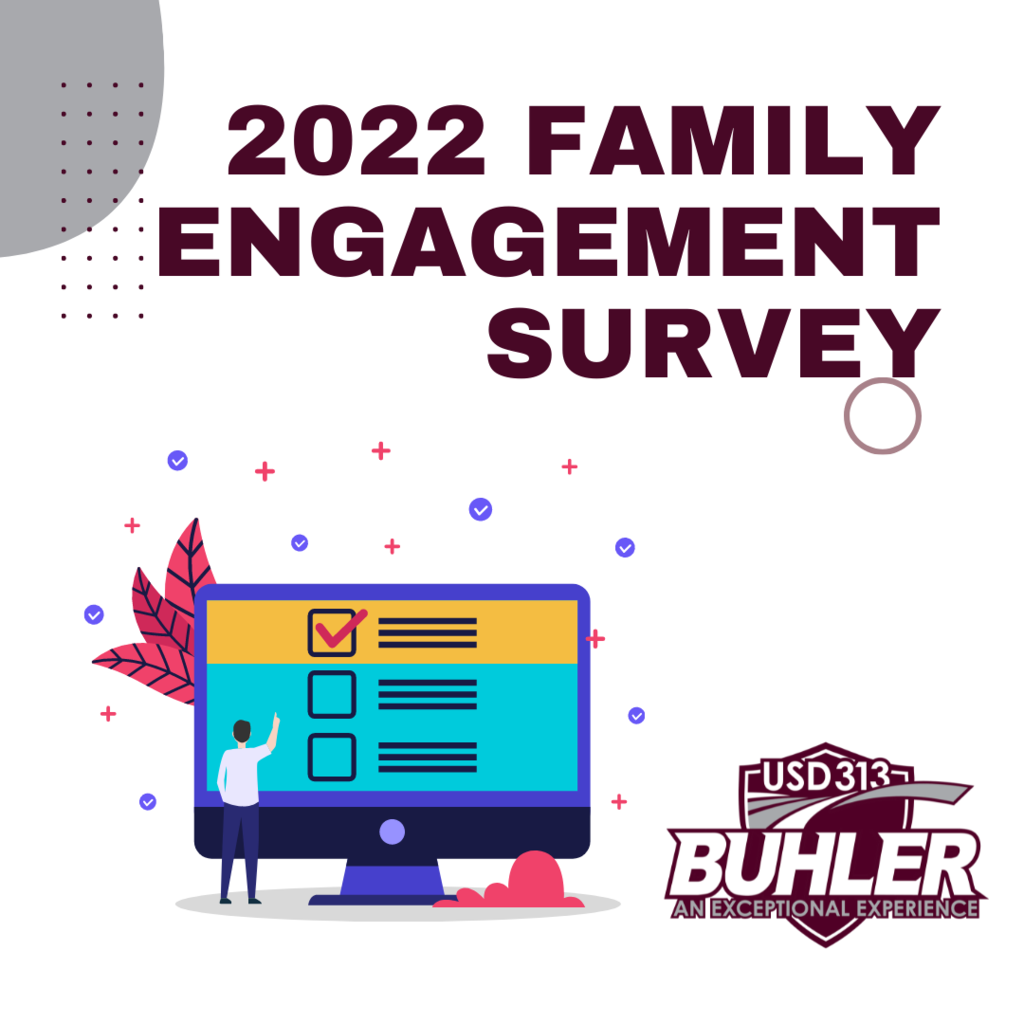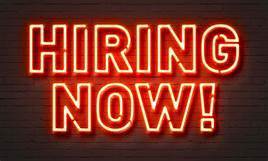 Summer STEAM Camp applications are now open! See the image below for details. Camp is open to students exiting 2nd grade through 7th grade. *We apologize the flyer sent home and given at Cosmosphere family night originally had a QR code that directed to last year's application. It now offers a link that will take you to the correct place.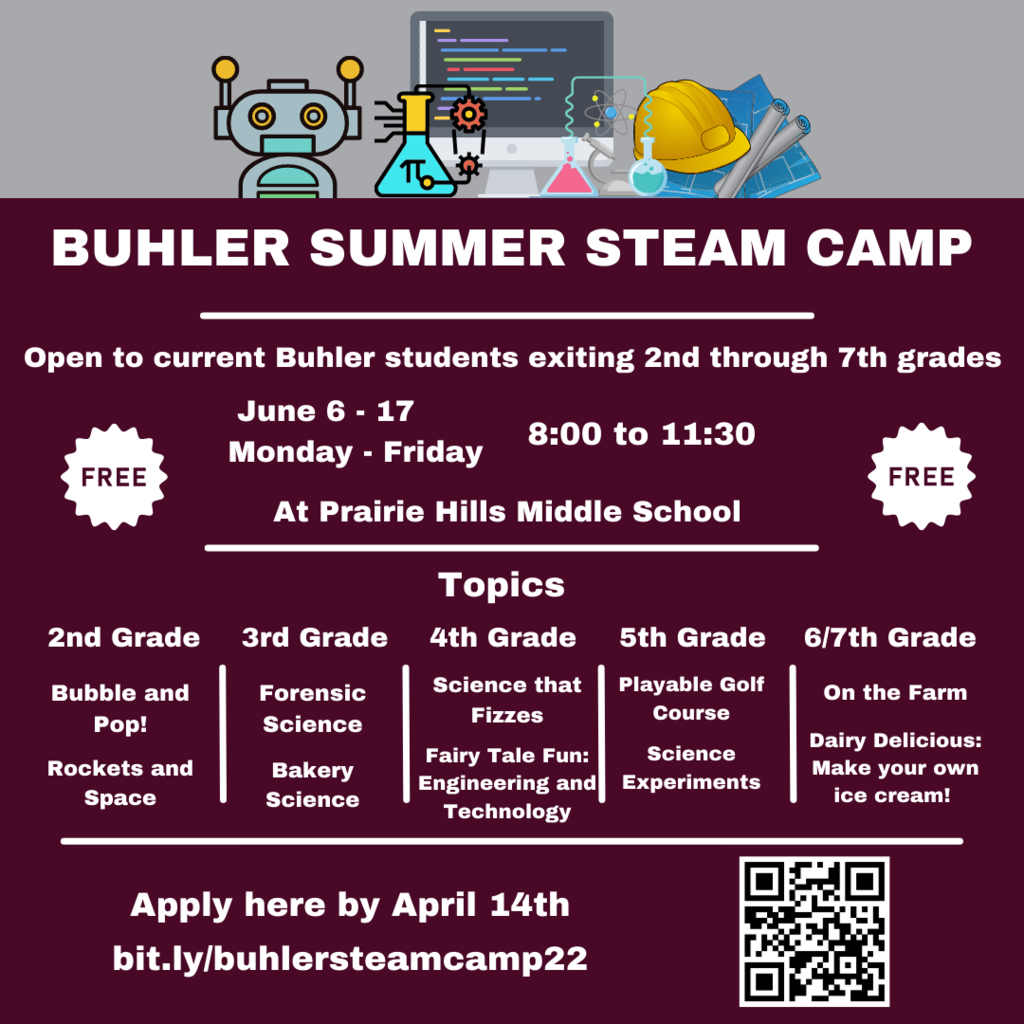 Spring is in the air and that often means HIRING staff for next year! At Union Valley, we have two classroom teaching positions and a music teacher position open for 2022-2023. Here is the link to apply or share with talented candidates:
https://www.applitrack.com/buhlerschools/onlineapp/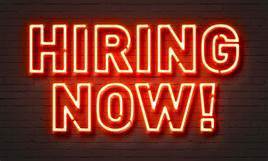 Tonight we have two amazing opportunities for your family to be entertained and learn together! The Buhler Singers "Motown and Musicals" Variety Show begins at 7:00 at Buhler High School and STEAM Family Night at the Cosmosphere is from 6:30-8:00pm. Come join us!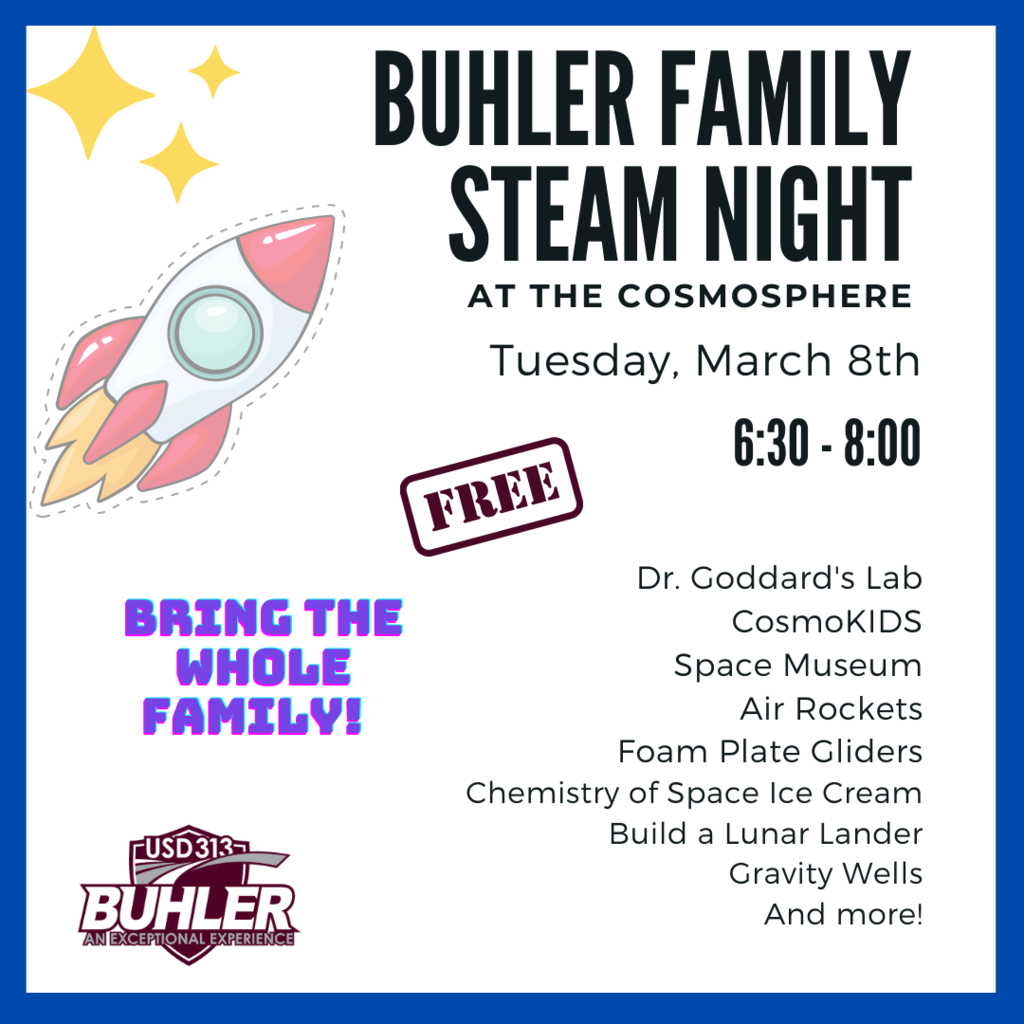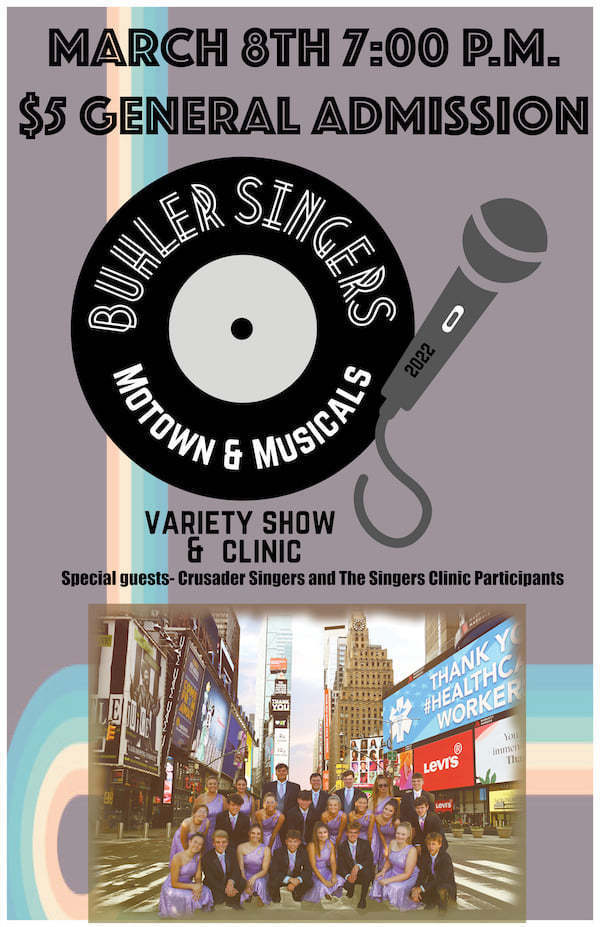 Good Evening, With the road conditions tonight and the freezing that will take place overnight, Buhler USD 313 will start two hours late on Monday, March 7th. Please see below for specific building start times and information. *With the 2 hour late start, the following will be implemented: *No morning PreK *No breakfasts will be served *Shining Stars will be open 2 hours late *All start times will shift back two hours (elementary 10:00, PHMS 10:20, BHS 10:10) *Bus pick up times will be 2 hours later *High school students will report directly to 1st hour *Middle school students will report directly to 1st hour Many roads are snow packed in spots with a layer of ice under the snow. Please drive with caution and allow plenty of room for the car in front of you. Cindy Couchman, Superintendent Buhler USD #313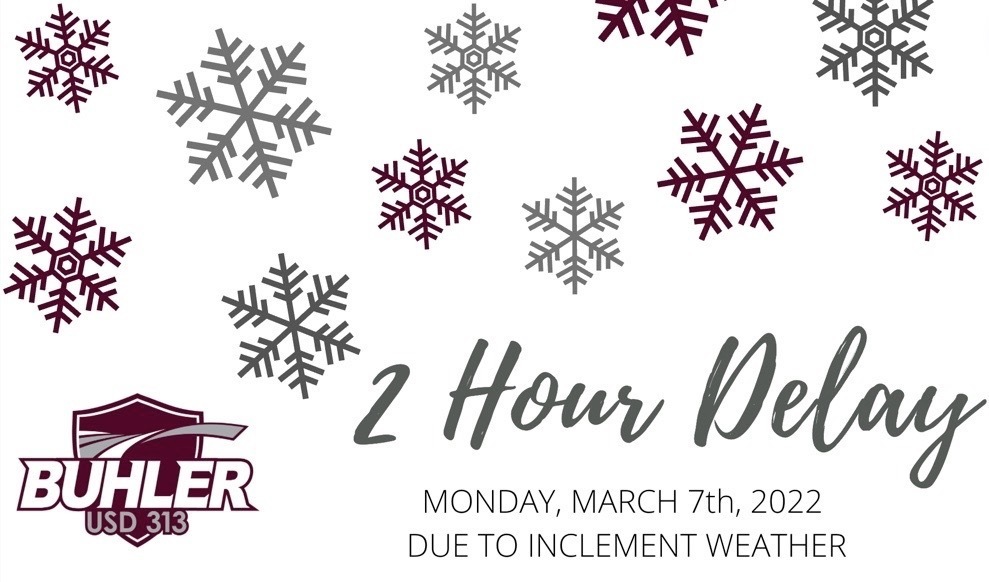 If you are interested in donating to help Buhler school students, families, or staff members through the Buhler Education Foundation you may also donate online at their PayPal link here:
www.paypal.com/paypalme/USD313Foundation
Please make sure to add a note when donating that says "Fire Victims" Thank you for your support of our Buhler family!